Mother's Health, Stem Cells, Genetic Chimerism, Henna Art, and Exercise
I don't really want to make a bunch of posts about pregnancy as this is not a pregnancy blog, but I have learned some fascinating health information because of itand had to write about it.
I looked at some research about fetomaternal transfer. It says that it is likely that stem cells are transferred to mothers in all pregnancies and that these cells can cause mothers to become genetic chimeras and affect the mother's body for decades. However, it is easier to detect stem cells from a male child than it is from a female child. These stem cells (CD34+) can help heal injuries in the mother's bones, the brain, and other major organs. Other studies have suggested that they may increase the risk of autoimmune disease later in life. I think it would be interesting to see how these integrated stem cells might affect people in the evolutionary sense. In another words, will one pregnancy affect a second pregnancy because of the mother's genetic chimerism? I wish we knew more about how these cells affect the mother's organs and metabolic pathways.
Sources:
http://www.smithsonianmag.com/science-nature/babys-cells-can-manipulate-moms-body-decades-180956493/?no-ist
http://www.ncbi.nlm.nih.gov/pmc/articles/PMC2633676/
http://jama.jamanetwork.com/article.aspx?articleid=199045
I got pregnancy henna on my belly. It's made of strawberry-like plant paste, is non-toxic, and safe for pregant women, and represents light, the sun, and a little boy!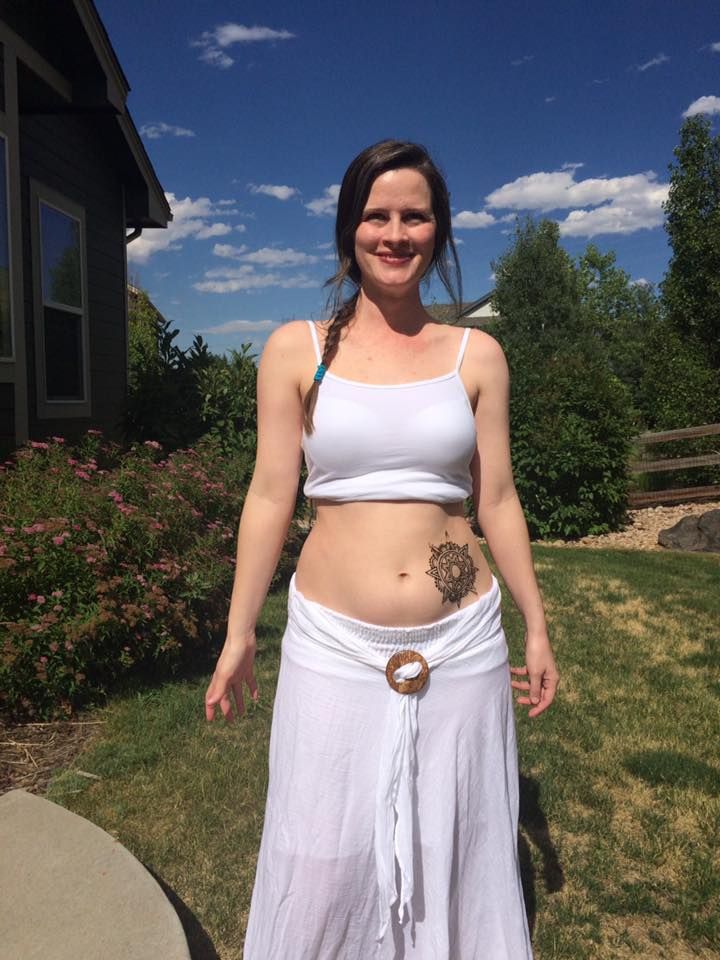 I've also learned that a woman's body changes, structurally, while she is pregnant. Her hips rotate outwards to make room for the baby. She will experience Diastasis recti (spreading of the abdominal muscles) to at least some extent, and she must be careful of joint injury before and for a little while after pregnancy because her joints become more flexible to prepare for delivery.
Excellent exercises to engage in during pregnancy are swimming and prenatal yoga as they are easy on the joints and help the mother to be exercise safely while pregnant. If improper exercises are done pregnant ladies can tear their abdominal muscles, worsening Diastasis recti, experience joint pain and injury, or endanger the pregnancy if she takes a fall. A pregnant woman also needs to drink significantly more water than someone who is not pregnant for her and the baby's health. That is why I am doing prenatal yoga exercises, swimming and drinking plenty of water.
After giving birth, health experts recommend that the mother do her best to get sleep when she can. She should also try to get plenty of sleep and rest if she is tired and dizzy during pregnancy as well. She would need about 3 months to fully heal after giving birth and longer if she had to have a C-section done. Then, she can go to a physical therapist and be given specific post-natal exercises to do in order to help her hips rotate back inwards and fix Diastasis recti in a safe, effective way while she gets her strength back.
Other health issues that a pregnant mother may face can be gestational diabetes (low blood sugar), dizziness (I had this during the first tri-mester, but it went away.), and low blood platelet count (I had this for a short time, but it went away.) which can cause excessive blood loss during labor and delivery.
For some of these things, her doctor may need to prescribe medications, a blood transfusion, or recommend dietary changes. It is also recommended that all pregnant women take a prenatal vitamin that contains folic acid and Omega-3 fatty acids to prevent things such as Spina bifida, neurological disorders, and aids in brain and nerve development. I have been taking a prenatal vitamin prescribed specifically to me by my doctor that contains these nutrients along with some others that I needed, especially while my blood platelet count was too low and I was feeling dizzy.

Even though I am only half way through my pregnancy and had some morning sickness during my first tri-mester, I think that pregnancy is an amazing thing. Pregnancy is not only about having babies, but also building strong women who believe in themselves. I am also finding all of this stuff that I'm learning about health and having children to be amazing! I can't wait to start taking all of the classes that my husband and I have signed up for at the hospital available to first time parents. I want to learn as much as I can about the latest research regarding the subject of labor and newborn infant care. My sweet husband has been so loving and supportive too. He will make an excellent father and I love him. We can't wait to meet our baby boy. :)